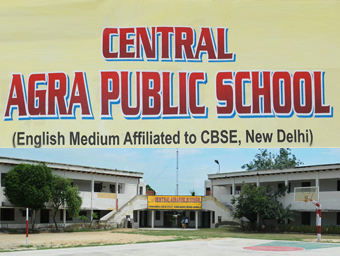 Central Agra Public School, Agra was established in the year 1993 by our esteemed and revered Father
Shri P L Sharma, a great visionary, who foresaw the need of a result oriented education and uplifiment of the children for their all round growth and development. To achieve this goal every effort is being made to give our students a sound education keeping with the national aspirations to make them morally, physically and mentally fit and train them to be active, useful and worthy citizens of india. This school is permanently recognized for intermediate the college had progressed under the supervision & guidance of Chairman Mr. M.C. Sharma, vice chairperson Late Dr. Smt. Sadhaa Sharma & Secretary Late Shri D.R. Chaturvedi. After the sudden devise of Late Dr. Smt. Sadhana Sharma & Late Shri D.R. Chaturvedi at present the istitution is marching ahead with the futuristic guidance of Mr. Aniket Sharma & Mr. Abhinav Sharma who are hadhing the institutions as secretary & vice chairman respectively.
The School helps the child to grasp basic human values viz concern for other, self discipline, honesty and self-reliance. It also helps the child to explore his/her potential and thus develop the skills stimulating creative ability develop the skills stimulating creative ability in them. We aim at promoting the entire development of the student by inducing three D's-discipline, Dedication and determination into his/her life. Central Agra Public School is affiliated to Central Board of Sec. Education(C.B.S.E.) Delhi from 1st to Xll Std. . It is a co-educational institution. Artoni School is now being run as an integrated school providing instructions from class l to Xll leading to the all India Senior School Certificate Examination of CBSE, Delhi, to which the school is affiliated. The school is managed and run by the Central Agra Educational Society on public school lines aiming at harmonious development of the pupils' i.e. physical, mental and moral development with emphasis on character building and growth of integrated personality traits.